Tonight I visited the Tiger! Tiger! Tavern to attend the San Diego Content Strategy meetup. My objective was to meet like-minded content marketing individuals and I couldn't be more pleased to have attended this inaugural event.
Did you know they have business networking events at beer bars?
I came to this meetup with the mindset to spread the knowledge of how SEO + Content Marketing create successful inbound marketing campaign strategies that produce thought leadership within your industry.
This blog post is an example of how you make friends, find new influencers, and generally have a good time by talking about your passions. (and also writing)
Table of "Content"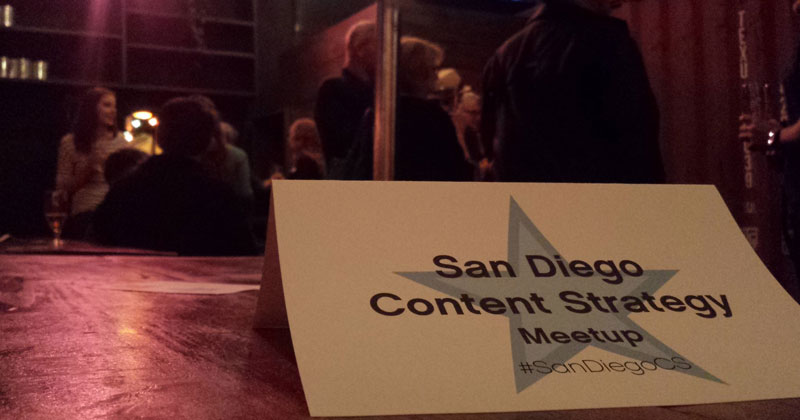 What is the Value of Offline Networking in a Digital World?
The value of networking is what you make of it and honestly, my best advice is to put your hand out for a shake and say, "hello my name is ____". From there just learn about their interests – you never know what you might have in common with a stranger. Really that different from Facebook?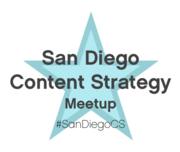 At the San Diego Content Strategy Meetup I was introduced to many local business owners as well as the founder of the meetup, Shelly Bowen, who naturally is passionate about optimizing a company's content and brand story.
In fact, on our name tags we were asked to write what we are passionate about. I of course tried to be funny and ended up getting a few laughs about an "effective marketing solutions" joke on my name tag. (we'll leave it at that).
Shelly Bowen explains the meetup is for anyone interested in improving content assets:
"Calling all people who care about interactive content, communication, and brand storytelling at your company! This group is to help get San Diego companies and content strategists together to ask and answer pressing questions about improving enterprise content assets. We'll meet in a friendly, casual environment each quarter to share ideas and experience about content audits and analysis, content planning and management, content software solutions, brand storytelling, SEO writing, and more. You don't need to be a content strategist to attend."


Nothing More Powerful Than A Hand Shake
except maybe a back link from a high domain authority website…
There are many strategies constantly emerging in the digital marketing field, but still there is nothing more powerful than a smile and a hand shake. I was able to make meaningful connections with over 20 people tonight, gave out all my cards, and received at least 10 business cards in the process!
It was a pleasure to meet local San Diego Professionals:
The value of carrying business cards in this situation – is a back link 😉
Meet Up Discussions & Content Strategy
The event ranged from first timers to the concept of content strategy to advanced linguists that even considered multiple languages a content strategy. In this case, Burckhardt and I exchange opinions about adding this type of support to a WordPress website.
People want to learn and they want to improve themselves. The reason people come to networking events is the same mentality you should bring to your content strategy. Though you may not see the exact reason to why you should go to the event, but is the unexpected that sometimes is the most valuable. You create content to create engagement. To create links and shares of your brand messaging.
In this case there was also the San Diego Redditors Entrepreneur Meetup that was also happening. And so naturally I had to go to both events. It was when I realized the similarities that I wen't back to Shelly (the organizer of Content Strategy) with Sean Bonatz of entireTea to combine the groups.
That was a great feeling and exactly why we network in the first place!
The Networking Event Metaphor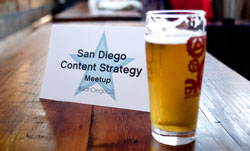 Creating a content strategy is about who you want to appeal, what you want them to do, and how is the best way to position your messaging for the conversion funnel. Now that may sound scary, but it is really quite simple.
You meet someone at an event. The objective is to learn more about them and get their card. But trust has to be built. You have to be relatable. And most importantly you have to overcome their fears. Think of your outfit as one piece of content, your glasses as another, and most importantly your smile the squeeze page that drives users to convert. It was these three pieces of credible / relatable messaging that convinced them you are worthy of the request.
Their objective was to meet someone reliable for their business networking and you helped to lead them through the funnel without even trying because you quickly overcome their reservations. Which in this situation were very minor since they already had identified themselves as a person in your audience by attending the event.
Now let's relate that to inbound marketing strategies…
You've created an eBook that has really good content about your industry best practices. Great. How do you get that out to the masses? There are many ways to drive people to this page. But the inbound marketing technique would be to invite industry influencers to read the page and request their reviews. By gaining social credibility and links back to the site, they are able to start a funnel into their thought leadership initiative.
Next they produce three other blog articles about similar content areas to begin ranking and sending traffic to the eBook page through inbound linking. The SEO starts to roll and the eBook is now credible through people and Google. All these different signals were enough to help the user decide – this is a credible source and we should exchange information.
This is the same situation as an online contact or lead generation form.
SD Content Strategy Meetup Photo Gallery
Photos by Gary Allard Photography

One of our favorite beer taverns near Riverine, Inc.
What's your name? And what is your passion?
Deep discussions with Shelly
Videographers + Content Marketers for the Win
Big smiles when you merge two networking groups
I was there…and needed a second beer
The end
On And Offline Networking Opens Doors
Just like a box of chocolates, you'll never know what you might get and through the power of networking you can make new possibilities. It is not about that night, where you go back to the office and write a blog about your experiences, or the next day when you send them a follow up email, but about 2 years down the road when you get "the" phone call.
Roger, I remember that conversation we had at Tiger! Tiger! – I am finally ready to continue.
And my client has a BIG BUDGET!
That is the moment you are waiting for, but should never expect. And presumably you've had lots of other wins since that initial networking event. This brings us back to inbound marketing. You are playing the long game and building a foundation for the future of your business success. Not only will you learn more about your customer to improve yourself, but you will also build the trust for a lasting relationship.
Whether you are online or offline. Inbound marketing is about building relationships for future and mutual growth.
Have a great day!