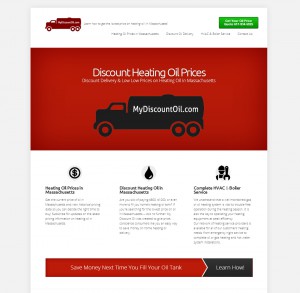 OVERVIEW: Client with existing home heating oil business wanted to get into discount market without diluting their existing brand. Riverine was hired to create a new website and launch PPC campaigns in advance of Winter 2013.
WORK COMPLETED:

Designed & developed WordPress website using a base theme for rapid deployment. (Project was completed in one weekend.)
Graphic design & simple logo creation
All copy writing and content creation for site
Integration of Email Subscription form with MailChimp
Optimized content for users seeking  cheap heating oil prices in Massachusetts
Launched strategic PPC campaign aimed at sending price-conscious shoppers to the new website, and everyone else to the old site.
RESULTS:
The chart below shows AdWords performance for the main account between 9/1/2013 – 1/11/14 as compared to the previous year. As you can see, by optimizing the campaigns and landing pages, we were able to significantly lower  CPC and Cost Per Conversion; allowing us to lower the year to year cost by more than 50% while increasing the number of leads by 240%!

For the new Discount brand, we have an exceptional stat line including 11% CTR, 6.5% Conversion Rate, and $22 Cost per Conversion